The hair color trends have been most volatile now more than ever with a new trendsetting the hashtag game stronger each day. Instagram is back in the trend with celebrities like Kendall Jenner, Maisie Williams, and Hayley Williams hitting the internet with their latest hairstyles.  
With women queuing up to get themselves back in fashion, these are some of the most trendy hair color shades that are expected this 2021.
Shades of Red
Red always stands out as fierce and bold. If you are someone who likes taking up new challenges newest dark pink/red hue is the choice. The fresh winter-themed color is always trendy, cool, and never gets boring. From strawberry red to copper to rich auburn, to bright red ruby tones, red hair is always a head-turning choice. And while it might be a big change for some, it will continue to be a top hair color trend into 2021 and beyond. Next time you're feeling fiery (or just want to enhance your natural shade), show your colorist one of the gorgeous takes on scarlet strands and find the best red hair color for your skin tone. There is no classier shade than red.
Shades of Pink
If you are ever wondering if pink is the right choice for you, you should definitely try it out. On one hand Pink is a color that often has a warmer tone to it. It is not as fierce as red at the same time it gives a very bold independent look as well. Pink has been hitting the fashion magazines lately as well. Moreover, pink is the color of quarantine, seen on celebrities including Kaia Gerber, Joe Jonas, and Charli D'Amelio. Other than being on the list of fun trends, pink is also the "new black".
Shades of Sea blue
Summer is almost here and if you want a cooler tone to match up with your cool vibes Blue is the choice. Be it chilling at an indoor pool party or heading out from brunch dates with your girl gang, you know what your choice can be. Blue hair color has become one of the most trending shades. Be it cool ice blue hair shades or chic denim hair color, there's a version of blue for every season, every mood, and all styles. A frosty blue hair shade is perfect to make winter a little more fun or brighten up your summer. Whether it's on silver-blonde hair or blended into darker roots, ice blue hair is a chic way to cool down your hair color.
Rainbow in the roots
If you want a work-friendly rainbow hair color, a rainbow undercut may be a good option. Since some offices don't accept the whole rainbow hair color trend that has taken social media lately, it's time to be a bit more creative. A rainbow undercut root color can be a good substitute.  Until it's casual Friday, i.e in which case you can show your hidden rainbow hair color off with an updo the rainbow undercut is the choice. With summers around the corner, you might want to try out this new chic look.
Chocolate and Caramel
A color that could be worn by anybody and everybody. Chocolate and Carmel shade brings the extra elegance to your natural hair colour. Almost every person who likes coloring their hair must have tried this shade once in their lifetime. You can pull off this shade with any outfit and every occasion. Most of the stylists recommend this color because Chocolate and caramel is the perfect choice for your hair when you are in any dilemma.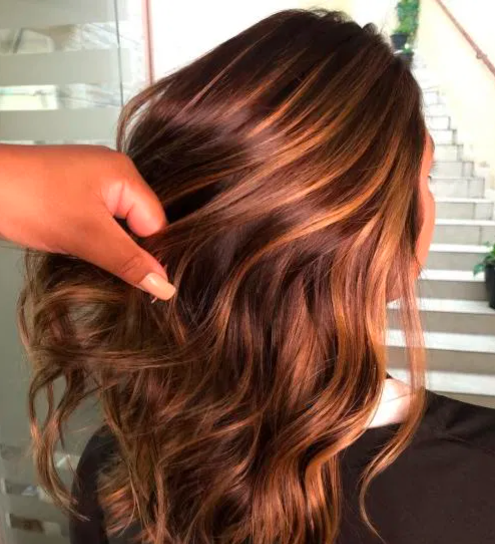 The last year has been really hard for all of us. Let's try these trendy colors which might change our mood for good. Head on to your nearest Salon stylist to glam up in one of these looks.