Even though the world is bringing us some joy this year while we start with our normal lives, the ladies have especially been dying to visit their Salons for all the pampering sessions and that includes a new haircut too. Every year, we have new haircut trends for women to indulge in so why should this year be any different. 
Parties, brunches, office promotions, we all need a fresh start now more than ever, what better way to begin this journey than to get a completely new look for yourself. We have already started to witness our favorite celebrities offering us the perfect hairstyles be it, Priyanka Chopra, with her new dramatic bangs and fresh fringes or Chrissy Teigen showing off her new lob cut after many months of those long wavy hair, these celebrities are surely bringing us new 2021 hairstyle goals. 
Finding the elusive perfect cut that works for you specifically is not always easy. Luckily, we are bringing you the most recent and trendy hairstyles that will flatter all face shapes and sizes so the next time you visit a Salon, there will not be any regrettable haircuts.
Short Bobs
This classic hairdo stands out with any outfit and the stylists predict that the hairstyle is not dying anytime soon the straighter and wavy bobs have been doing the rounds for a while. Although this haircut requires a certain kind of maintenance, it looks like celebrities are keeping it natural with asymmetric bobs these days, but this haircut is such that you can customize this style according to your liking. 
Shaggy Layers
When in doubt, go for layers. Just like bob, Shaggy layers are a blend of classic and contemporary, one of the most popular haircut trends for women. Ask any professional what most of the women prefer when it comes to hair cut, a lot of the women with long hair like to have loose layers that flow naturally. Fortunately for Shaggy layers, you don't require a certain kind of face structure because the look suits anybody who likes a little longer hair.
Mullet
Most of us may not be fond of this hair cut but celebrities seem to be liking it. The recent list of celebrities who joined "the mullet" club is Miley Cyrus and Rihanna. This "80's chill" look is winning hearts and has recently added to the list of most trendy hairstyles. So, the next time when you are ready for a fresh start, try out this cut to make those heads turn in a party and to make yourself feel bolder.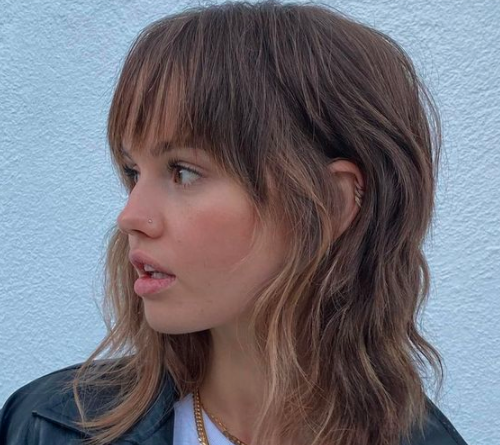 Curtain Bangs
Seems like this super cute 2020 hair trend will continue this year, a cut that can be worn on both short and long hair. This 70's vibe-like hairstyle doesn't require a lot of maintenance and when your hair grows with this cut, the curtain bangs gives more of a wavy hair look. Try out this new haircut trend for a more elusive look.
Low Maintenance Cut
Don't we love Jennifer Aniston in her blunt cuts? The whole purpose of low-maintenance hair is to embrace what you got. A blunt cunt to your natural hair, be it straight or curly makes the hair look thicker. What is special about this simple cut is that you can just walk out of the shower without combing them and it takes little to no effort if you are planning to attend any kind of function.
Queen's Gambit Effect
Another unique hairstyle knocking on the doors of 2021. Inspired by the series "The Queen's Gambit", this look isn't just for the red hair girls, the brunette and blondes are pulling off this cut with the same elegance. With the curly ends and the bouncy hair, this look is for all face types so go ahead and get your own queen's gambit because this hairstyle is here to stay.