Everyone is going to agree to the fact that we have our good hair days every once in a while, but what about the next day and the day after that? Sun, pollution, styling, humidity, and infinite other factors lead to dry and frizzy hair that not only looks very dull but is also prone to breakage and split ends. We invest a lot of our money in skincare routines, facials, and other such skin-related problems, but our hair often gets neglected. Little do we understand, the sun has adverse effects on our hair, and the lifestyle we follow calls for some professional hair treatment. Hair Smoothening Treatment could be the solution for most of these problems.
Most people want to get their hair treated correctly, but the internet has more answers than people can digest. From straightening, keratin treatment to smoothening, spa, there is so much in the market, but no knowledge on what is the most efficient and what suits your hair the best.
You need to sit with your hair expert to understand what exactly would be the right care treatment for your hair. Although hair smoothening does give a whole different look to your face and hair, this treatment may not be a solution to the problems that your hair is facing and thus a professional opinion is a must.
Now let's see, what exactly is hair smoothening, and why is there such a hype around it?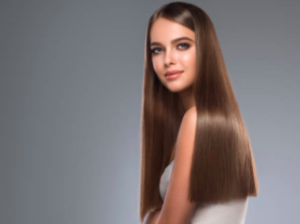 Less popularly known as a Brazilian blowout, hair smoothening is a chemical hair treatment that helps to add protein that your hair lacks. This is a very simple procedure wherein a solution is applied to the hair, dried, and straightened. Hair smoothening is a heating treatment (which you think will damage your hair), but since this solution is full of heat protectant, there is no damage caused to the hair whatsoever, and it is efficient as well because it helps in breaking the hydrogen bonds that are present in the keratin molecule in the hair. 
Now, you might also worry about how long the treatment will last, to be honest, this completely depends upon what brand you use for this treatment. It mainly varies between two months to half a year. Better the brand, the longer the treatment lasts. 
Hair smoothening is one of the best things you can do with your hair, but there is just one drawback, once you get the treatment done, there is no going back. You have to get it done twice a year at least. For girls with curly or wavy hair, smoothening will leave your hair straight, and it won't go back to curly for at least half a year. So, give it a thought, are you ready for the commitment? And if yes, get it done right away! 
You might wonder, if it just straightens hair, why not get straightening done permanently or keratin which will help with better scalp treatment? Well, all these treatments are completely different than the other. But here is the answer that you are looking for smoothening hair is a very healthy alternative for straightening hair and Keratin has other benefits in regards to smoothening. It is a much healthier option and you need not worry about hair fall. Smoothening leaves a shine in your hair that makes it look very healthy and lustrous. This chemical treatment will give your hair the nutrients it lacks due to unhealthy eating habits.
If you think that's all for the benefits, you got it wrong, there is much more to it. Smoothening makes your hair soft and straight but doesn't make it look very artificial. This procedure also includes massaging your hair and scalp that will help you exfoliate the dead skin on the scalp, and help you relax. This is a very healthy hair treatment as the cream used in smoothening consists of Vitamin E, avocado oil, amino acids, Vitamin B3, and biotin which is all the food your hair ever needs. 
Now, let us talk about one of the biggest concerns, price. This will completely depend upon the brand and salon you choose. And not to forget the length of your hair. Typically, it will cost between Rs.4,000 to Rs.8,000, but considering the benefits, this should be worth the money. 
Make sure you follow the necessary steps after this treatment. Just remember to cover your hair post-treatment, and don't tie your hair too tight at any cost for at least a couple of days. Your hair will need minimum styling after as your hair will look straight, soft, and beautiful, so what are you waiting for book your appointment and get your hair game on now. Check out some of the best salons on our Wellnessta page.