Facial Treatments have proven to be the most rejuvenating spa therapies of all time. Facials are readily available, easy to use and provide the easiest access to spa therapies one would want to have on weekends. Apart from this, facials also have been medically proven to be beneficial to the health of the skin. Facials can help clear clogged pores, quench parched skin and remove dead cells. Facials involve some massage which aids in blood circulation and lymphatic drainage.  The facial massage also helps to relax facial muscles which can slow the onset of wrinkles on the face. Puffiness reduction, sagging in the face, and skin cell renewal are some of the additional benefits of these massage techniques. 
Here's a list of the essential facial treatments applicable for all skin types.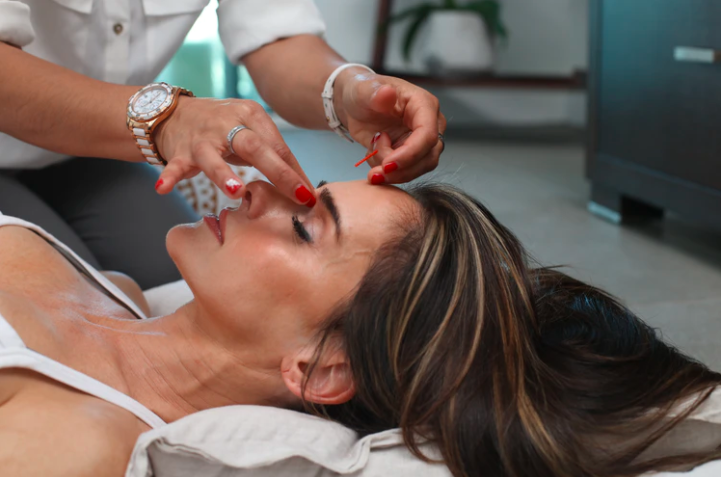 De-tan facial
De-tan facials are suitable for oily skin that gets sun-tanned. With summers almost knocking on our doorstep, a five-minute walk outside the home can also leave a sunburn and make the skin tan. The creams used for this facial cut the melanin on the skin hence gives immediate de-tan results. It is ideal for oily skin to get its glow back in summer.
Diamond facial
This facial is ideally used for special occasions, especially suits dry, oily, and a combination of skin types. It is mostly chosen for weddings, birthdays, parties, or festivals. The fine white diamond dust is used in massage cream and applied to the skin. A thorough massage with your hand helps reduce signs of aging, acne, and gives a whitening effect to the skin.
Collagen facial
Collagen is a natural protein that has the ability to get absorbed and hold moisture inside the skin. It is this vital protein that makes 70 percent of the skin however collagen is lost as we age, thus causing wrinkles. The Collagen facial replenishes this important protein to provide texture and resilience to the skin. Collagen facial is suitable for all skin types. 
Photo facial
Photo facial is the latest, safe, non-invasive, and comprehensive treatment that uses light and helps in treating various skin disorders like wrinkles, age spots, sun damage, coarse skin, large pores and blemishes, and so on. Photo facials use blue light therapy to treat skin damages.
Gold radiance facial
This facial suits all skin types. The result of this facial is a yellowish golden glow that is ideal for brides as well as for women who have to face strong lights that are usually warm white in color. Gold facial is one of the most pre-bridal facials in the current times. It not only clears the pores but also provides the face with a golden glow. 
Skin lightening facial
This facial is the most effective for visibly lightening the skin tone. It has been preferred popularly for dry skin, as the creams and masks used for this facial are all herbal in nature. A skin-lightening facial is the handiest, most effective, and easily available facial therapy suitable for all skin types.
Wine facial
Red wine acts as an anti-oxidant which is 20 times more effective than vitamin C and 50 times more than vitamin E. Application of red wine is known to improve the moisture content of the skin, improve skin elasticity, and reduce the appearance of wrinkles.
It increases levels of vitamin C within the cells which has an anti-wrinkle effect. Red wine acid also dilutes the pigment and promotes skin metabolism. 
Ultra-hydrating watermelon facial
Beat the summer heat with an ultra-hydrating watermelon facial is always a must-try. It suits all kinds of skin types. Specially created for the heat fatigued skin it provides intense hydration to the skin. Enriched with water-infused extracts it magically sinks into the skin leaving it with a revived and refreshed feel. Hydrating facials are the best way to hydrate your skin during summer.
Sensiglow facial
This type of facial is usually recommended for sensitive skin, the reason being the cream used for the facial does not include granules that harm the epidermis, as a regular exfoliator used for other facials ruptures the epidermis and visibly harms those with sensitive skin. 
Anti-aging facial
This facial is always the most preferred choice for women in the age group of 35-50 years. Mostly it has been used for combination and normal skin types, the mask used for this facial helps in lifting the skin tone, reducing traces of wrinkles, and skin sagging as well. It not only makes the skin look younger but also brings back a glow to the skin.
Therefore, getting a facial is an absolutely enjoyable and most wanted skin treatment. It gives a feeling of being relaxed, pampered and the skin will feel simply amazing after a facial.
You will certainly reap the benefits of a facial during the change of seasons. At the lowest receiving a facial treatment four times per year seems most ideal for healthy skin, as the seasons change. Regular facials are the key to clear, smooth, and radiant skin throughout the year. Visit your nearest Salon now!