In today's fast-paced world, everyone is looking for convenience and efficiency. The beauty and wellness industry is no exception to this trend. With the rise of online booking systems, spa & salon services can now offer their clients an easier and faster way to book appointments. Online booking systems like Wellnessta have become an essential platform for the beauty and wellness industry.
In this write-up, we'll discuss the surprising benefits of online salon booking or spa booking and how Wellnessta can help customers to find the right Salon, Spa, Yoga, Meditation, Gym, Fitness, and Naturopathy.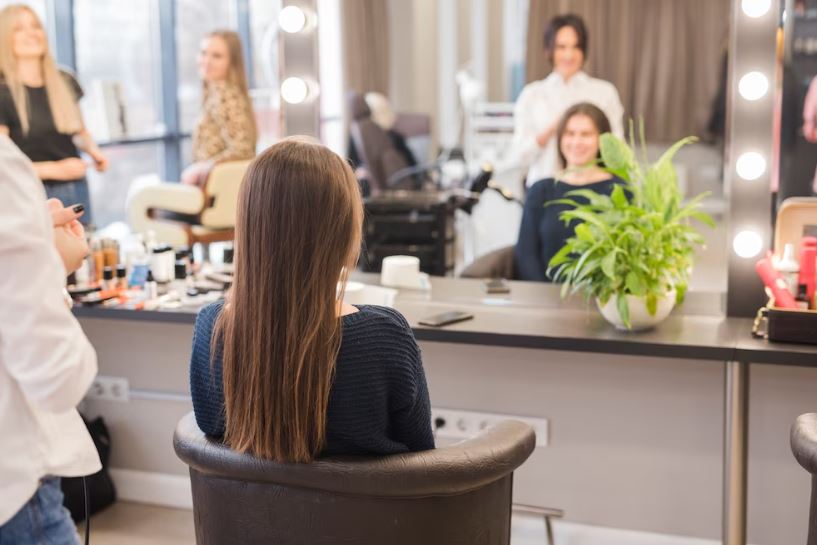 ● Streamlined Booking Process
Online booking systems allow salons and spas to streamline their booking process, making it more convenient for clients. The traditional method of booking appointments over the phone or in person can be time-consuming and often leads to missed opportunities due to conflicting schedules. With an online booking system, clients can book appointments at any time of the day, from anywhere. This not only saves time for the client but also reduces the workload for salon staff, allowing them to focus on other essential tasks.
● Increased Client Retention
Online booking systems can help salons and spas increase client retention. Clients appreciate the convenience of booking appointments online and are more likely to return to a salon or spa that offers this service. By making the booking process more efficient, salons and spas can create a better overall experience for their clients, which leads to increased loyalty.
● Better Time Management
Online booking systems can help salons and spas better manage their time. By automating the booking process, salon staff can spend less time on administrative tasks and more time on providing quality service to clients. Additionally, online booking systems can help salons and spas track appointment history and client preferences, making it easier to provide personalized service.
● Improves The Customer Experience
Undoubtedly, the best salon services online bookings can significantly improve the client experience. Did you know? Any business must allow customers to schedule appointments 24/7 because about 32% of online spa and salon bookings are made outside regular business hours. Additionally, since many customers choose to book online even during store hours, offering clients the option to book online is essential. Online bookings are highly successful for salons and spas that offer a particular service,
such as facials, men's and women's hair cutting, or waxing. A good online booking experience will support most clients to self-book for full-service salons that provide various services, making the booking procedure more complicated.
How Can Wellnessta Help Advertise Your Business?
Wellnessta is an online booking platform designed explicitly for the beauty and wellness industry. With Wellnessta, salons, and spas can easily manage their appointments, track client history and preferences, and communicate with clients. We also offer a range of marketing tools to help salons and spas promote their services, attract new clients & grow their business. Our list of considerations is designed to be used as a guide for helping you find one that will leave you with memories you can cherish forever.
How Are Salon & Spa Booking Apps Beneficial for Customers?
Booking services for salons and spas have debunked the notion that pampering is only for wealthy individuals. Nowadays, anyone may make a quick appointment to visit their preferred spa or salon without paying expensive fees to interact with a booking agent. Why not try one of these apps if you're serious about saving time or need to book an urgent appointment? You can choose from various wellness service options with the
Wellnessta App. You can schedule appointments, get awards, and find fantastic discounts via the App. Your one-stop shop for discovering any service nearby is this Wellnessta App. We offer everything, from comforting spa sessions, meditation, fitness, naturopathy & beauty salon services in Mumbai or nearby areas with the best deals and offers.
Wellnessta app is ideal for individuals who find it challenging to choose among all the available salons and spas. Users can build a profile that contains personal information, financial information, and service preferences. After creating a profile, users receive recommendations for salons or spas that meet their needs. Customers can use numerous filters, such as location, availability of salon & spa, prices, etc., to explore several top- notch services.
Wrapping Up:
From streamlining the booking process to improving client retention and time management, online booking systems are a must-have for any salon or spa that wants to stay competitive in today's market. Wellnessta is an excellent choice if you are looking for a reliable and user-friendly online booking platform. So, what are you waiting for?
Sign up with Wellnessta today and start reaping the benefits of online booking for your salon or spa! Request a demo today to get a sneak peek of how we can help you. Install the Wellnessta app now!