In recent times, a huge population of netizens watches makeup tutorials on social networking sites. And little would anyone own up to it, but not all of us have the guts to pull off all the trends in the makeup industry. As a beginner, one might stress what to buy and what not to buy because of the innumerable trends and options of products to choose from. For someone who wants to nail everyday looks by looking simple yet elegant, you have come to the right place. Here are some very easy makeup looks you can quickly apply on the go.
---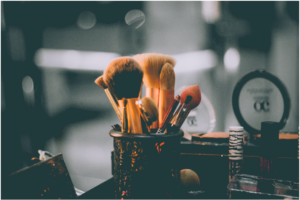 Let's start by checking off the must-have list for every makeup look.
(1) Primer (2) Concealer (3) Foundation or face tint (4) Eyeshadow palette (5) Contour palette (6) Blusher (7) Eyebrow pencil (8) Eyeliner and kohl (9) Lipstick (10) Bronzer (11) Highlighter (12) Makeup fixer
Let's get on to the base of the makeup which is essential for all the makeup looks.
A primer is the first and the foremost step to your routine, it gives your skin a poreless look. But if you have dry skin, you might want to add a layer of moisturizer or skin oil before this.
Concealers are a must-have for anyone with acne scars and dark circles as they magically make them disappear giving you a clean canvas to work on.
Foundation or a face tint helps to give your skin a flawless look without changing the skin tone. Makeup gurus have sworn to this as the manta to get younger and brighter-looking skin.
Contour palette helps to bring dimension to your face, you can define your cheekbones, nose, and jawline with this product. This is a very technical procedure as one has to contour depending upon their face type.
Now pick up some brushes, and try one or all of these makeup looks that go with every outfit and occasion.
Glitter and Gold 
This is one of the simplest yet elegant looks that one can wear to casual outings and parties too. All you need is an eyeshadow pallet within a golden tint, apply it generously in the crease of your eyes, top it with a glittery golden shade, start applying from the inner crease, and make it lighter when you go to the outer crease. If you don't have a glittery golden shade, don't worry, a bronzer or highlighter will do the job for you. Finish this look by applying a winged liner and mascara.
Watercolor Lips
This is a very sleek look one can try on an everyday basis. This makes them look glossy and luscious without making them look artificial. All you need to do is apply a concealer to your lips and apply a pink or red tint on the outer line of your lips and merge it with a beauty blender. Let it sit for a couple of minutes and then apply a layer of transparent lip gloss. This will make your lips look naturally beautiful. You can carry this look with every outfit and on any occasion.
Rosy 
This is one of the makeup looks that gives a very cute and natural-looking glow to your face. All you need for this look is a blusher or red lipstick. After applying your makeup, apply blush or red pigment on your cheeks and nose generously and blend it well. A light eyeshadow and glossy lips will complement this look. This is a go-to look for any casual outing.
Red lips
This is one of the boldest, yet elegant looks you can carry in any function. A matte red lipstick with simple makeup and a popping highlighter makes your shin in the crowd. Make sure you use a lip liner first because you don't wanna spoil that lip line, and check your teeth for any lipstick before you leave from home.
Cat-eye
This is a go-to look for anybody who wants to pull off the Instagram baddie look without doing much effort. This makes your eyes look very dramatic and glamorous. Apply a light eyeshadow to your eyes and after that apply a winged liner that goes from the crease to the corner of the eye. Make sure you define your lash line and don't make it too thick. Check if both the liners bath. And once they do, put on falsies or a couple of layers of mascara. Finish this look by applying a highlighter to the corner of your eye. Fill in your brows dark with this look as it will make your eyes pop well.
After you have recreated one of these makeup looks, make sure you follow up with these steps to pull off the look like a pro.
You don't just want a highlighter, it is the most essential part of a makeup look. Highlighter adds a shine to your face and makes your features pop out so well. It comes in different shades and consistency, although using the stick highlighter is the easiest and most efficient, the liquid highlighters have better pigmentation.
Makeup fixer works like magic water. Just spray it on your face after you are done with your makeup. This will help you fix your makeup and give a glow to your face. Now you can go to a party without worrying if your makeup will come off.
You are now ready to step out with that gorgeous outfit and rock any look. Make sure you carry a bright smile on your face!